Original Prusa XL 3D Printer
The Original Prusa XL is a large-scale CoreXY 3D printer with a build volume of 36×36×36 cm (14.17''×14.17''×14.17''). Featuring an optional tool changer with up to 5 independent tool heads, automatic first layer calibration for an always-perfect first layer, and many smart features, the XL enables you to print massive objects with ease.
Pre-order information: Shipping of all variants of the Original Prusa XL is now underway. New orders will be processed during the first half of 2024. Check the latest update.
Reserve your place in line by paying the refundable deposit. Once your order is about to be shipped, you will receive a notification with the option to edit your order - select a specific XL version, add accessories, add-ons, filaments, etc. The deposit will be deducted from the total price.
Preorder product, reservation deposit is $199
The rest of the price ($2,300) will be charged before we send the printer to you.
GO BIG WITH THE ORIGINAL PRUSA XL!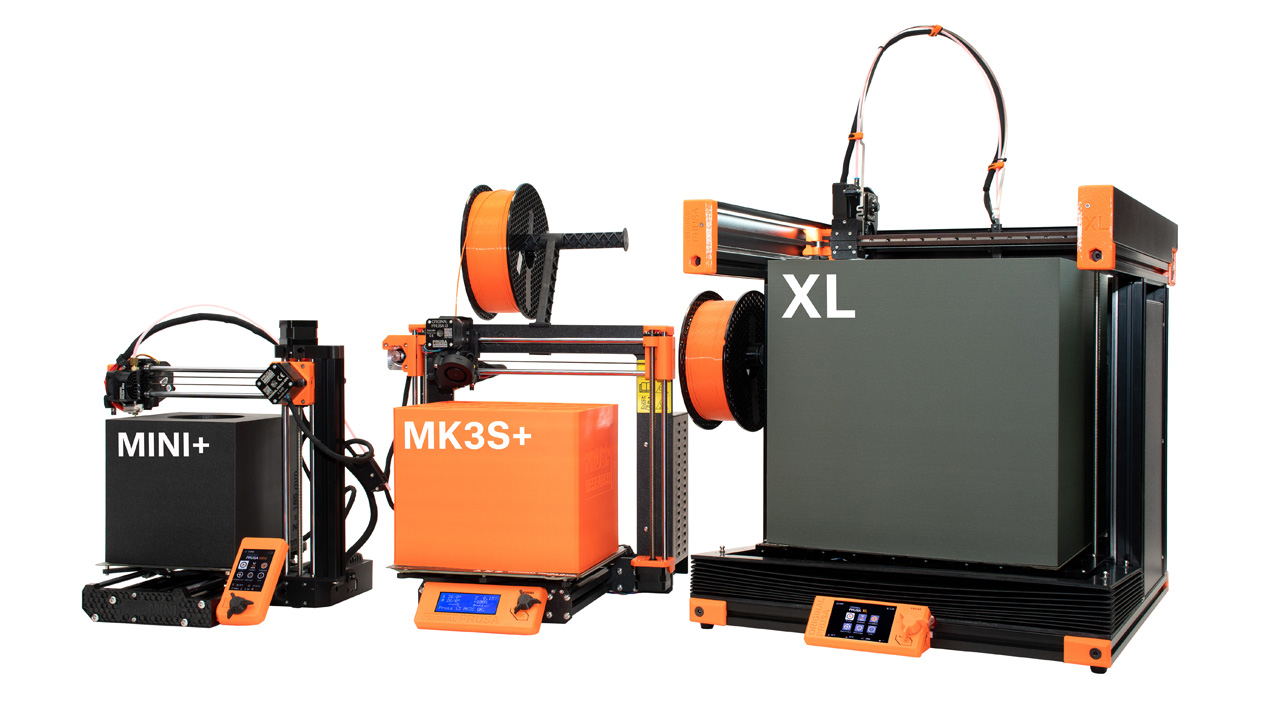 The XL comes with the brand new "Nextruder", a completely redesigned extruder with a planetary gearbox, hot-swappable nozzles and a Load Cell-based system for fully automatic first layer calibration. No manual calibration, no Live Z adjustments. The XL achieves a perfect first layer across the entire surface every time you start a print.
The print quality is further enhanced by the XL's modular bed design - instead of using a single large heatbed, which is prone to warping, the XL uses an array of smaller, individually-controlled segments. Only the necessary part of the heatbed is activated when printing smaller objects, making the XL energy-efficient. Just like other Original Prusa 3D printers, the XL also uses proven double-sided spring steel sheets with various types of surfaces, allowing for easy maintenance and effortless print removal.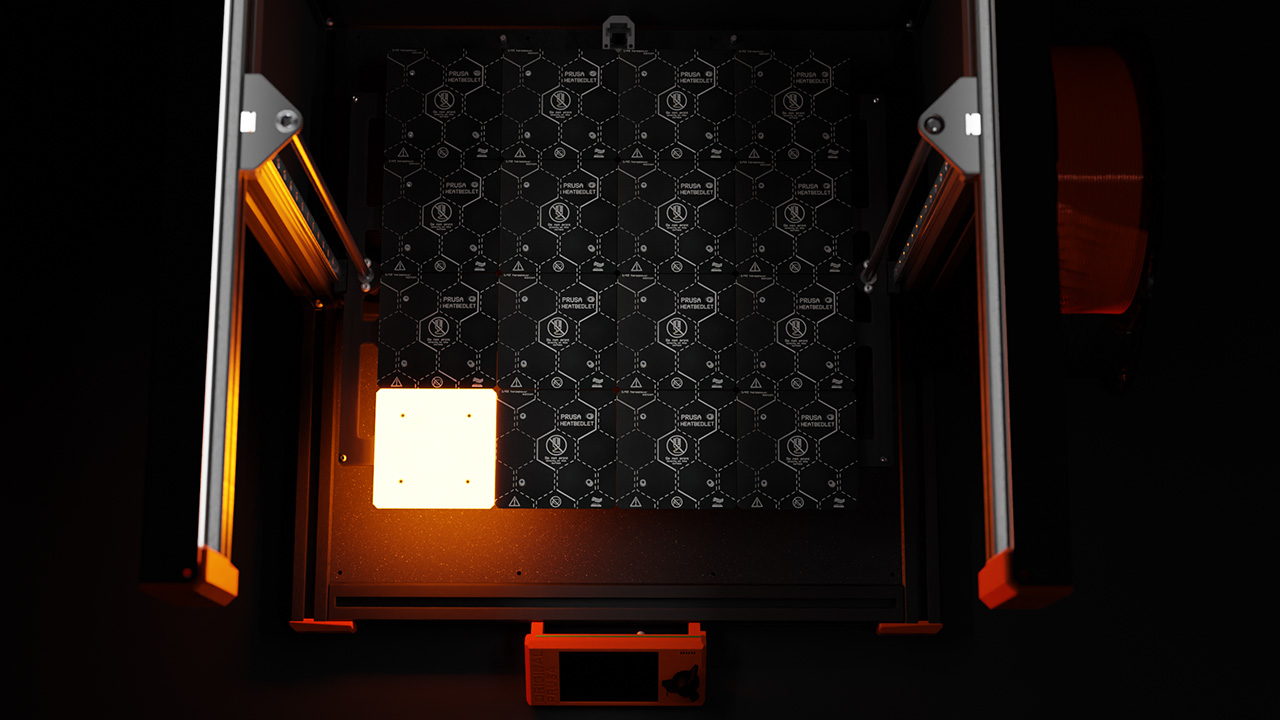 And perhaps the best feature: the XL can be easily expanded to up to five tool heads thanks to a highly accurate tool changer with automatic calibration via the load cell sensor - no more tedious calibration prints! Our internally developed kinematic coupler mechanism ensures millions of trouble-free tool changes. Using multiple tool heads opens up new options for your 3D printer: easily print soluble supports, print with up to five colors, or print with vastly different materials. The tool heads will be available individually in our e-shop as optional upgrades - so you can start with a single-extruder XL and upgrade it gradually over time based on your needs. More information about our plans for the tool changer and the benefits of various nozzle sizes can be found in our blog article.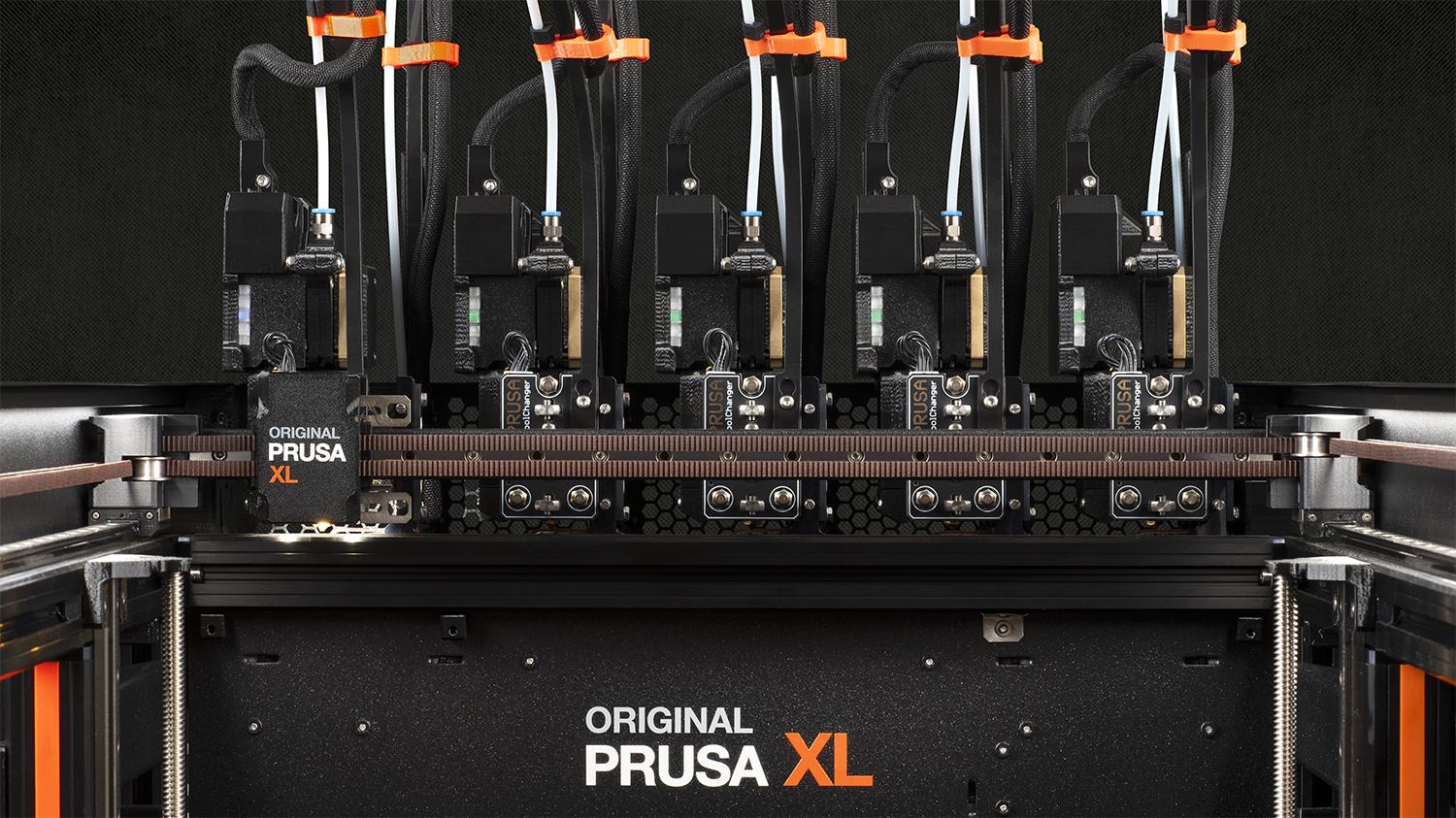 With eight times larger print volume compared to the MINI+, no project is too big for the XL!
Introducing the Nextruder!
Say goodbye to Live Adjust Z!
When designing the XL, we left no stone unturned. The Nextruder is the new generation of 3D printer extruders. With built-in electronics, featuring a dedicated CPU and stepper driver directly in the print head, the Nextruder is controlled through a single-connector cable for easier maintenance. Fans, thermistors, the heater block and extruder motor - this all connects directly to the board inside the print head.
The completely redesigned extruder assembly allowed us to implement a fully automatic first layer calibration for an always-perfect first layer. Thanks to the internally-developed load cell sensor embedded within the heatsink, the XL can measure physical load in the heatsink and use the nozzle to probe the print surface. This way, the XL can utilize the load cell system to perform an incredibly precise height calculation for the first layer. No matter whether you just swapped the nozzle or the print sheet, there's no need to recalibrate anything. No Live Z, no manual adjustments. The XL delivers a perfectly smooth first layer every time you start a new print. The load cell sensor can do more, though! You can find more details in our blog post!
Filaments are no longer pushed by two small gears. Instead, we're introducing a brand new planetary gearbox (1:10 ratio) with a large no-slip drive gear. This enables a higher level of control and also improves the compatibility with flexible materials. And there's more: the nozzle and hotend are hot-swappable. The XL allows you to pull the entire brand new hotend assembly out of the extruder without the need to disassemble it. We've also added another thermistor into the heatbreak, which allows us to adjust the temperature according to the material specs and also detect heat creep.
What we are proud of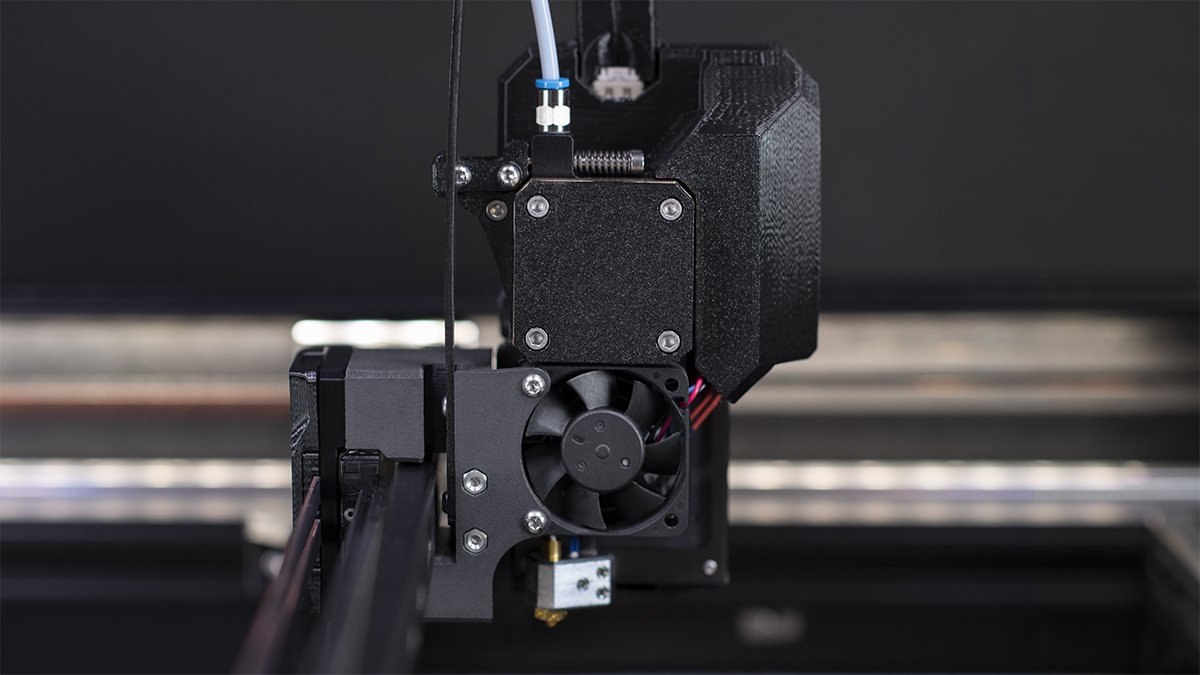 Nextruder
Built from the ground up, the Nextruder is a brand new extruder for Original Prusa 3D printers. Significantly lighter and packed with the latest technologies, including a minimal-backlash gearbox and no-slip drive gear, the Nextruder is designed to deliver top-notch performance and amazing-looking 3D prints.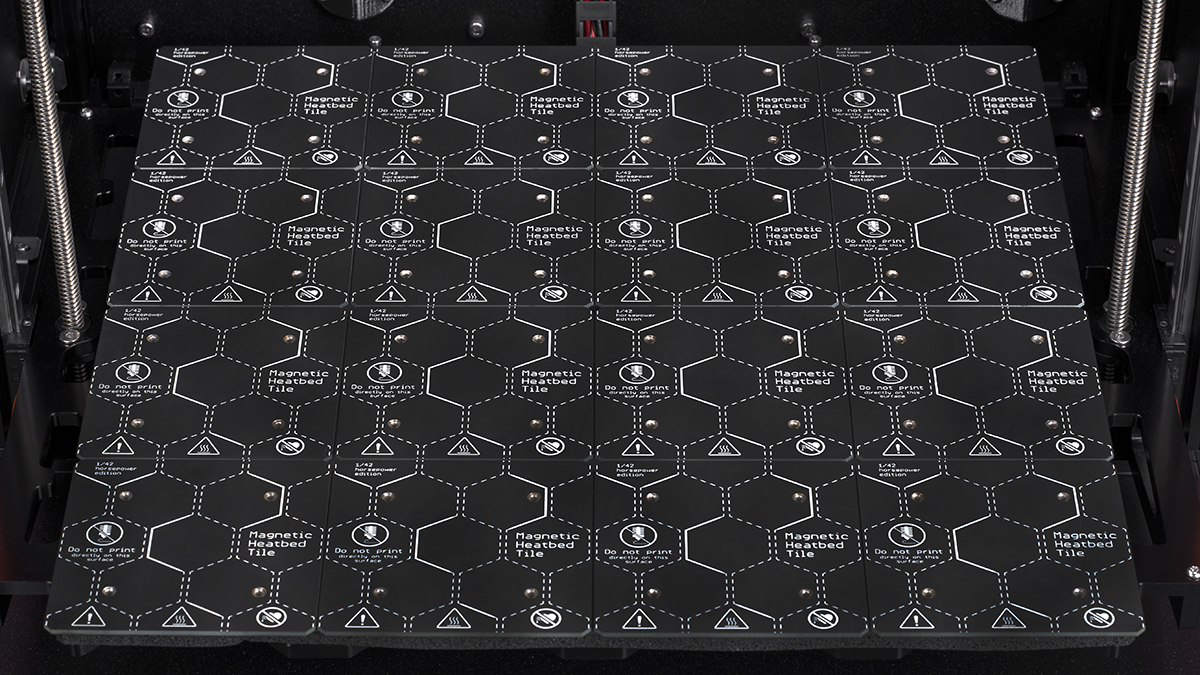 Rigid CoreXY build
The XL is built around a sturdy aluminum extrusion frame, which makes the XL stable and rigid. Thanks to high-quality stepper motors, linear rails, and energy-efficient heatbed with 16 individually controlled segments, the XL delivers great-looking 3D prints up to 36×36×36 cm (14.17''×14.17''×14.17'').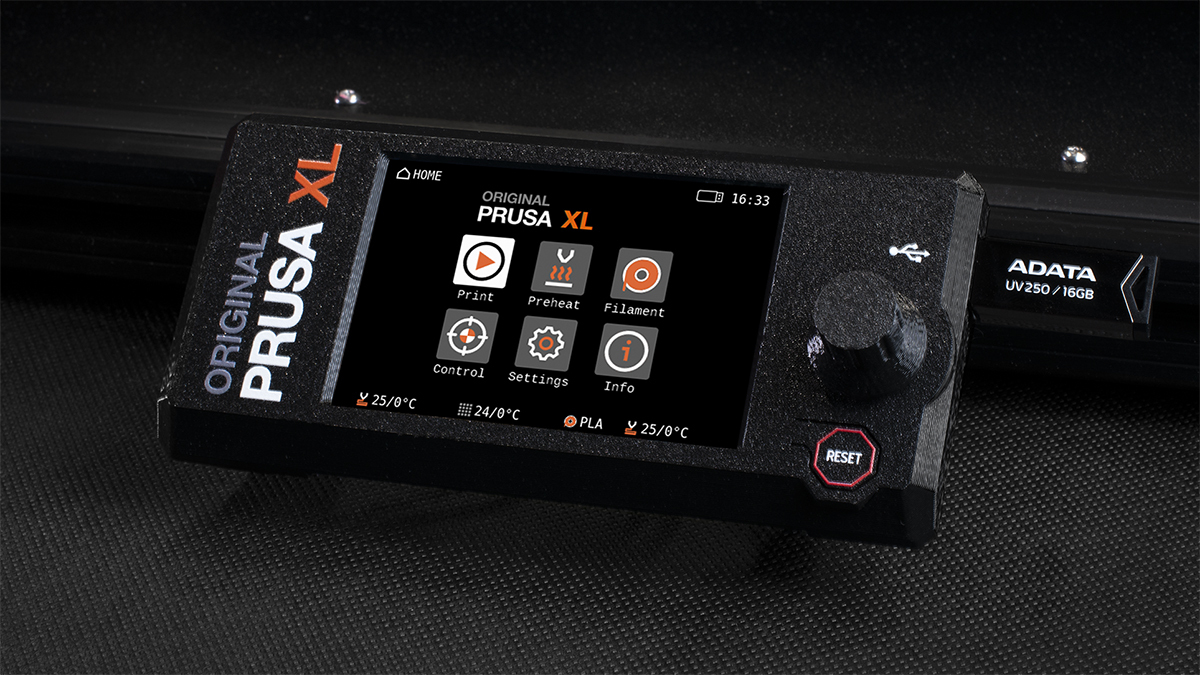 Power-loss recovery
Large prints can easily take days to finish. However, you don't need to worry about power outages. The XL features hardware-based power-loss recovery. In case of a power failure, the XL stores the last known extruder location, so when the power is restored, the machine can pick up exactly where it left off.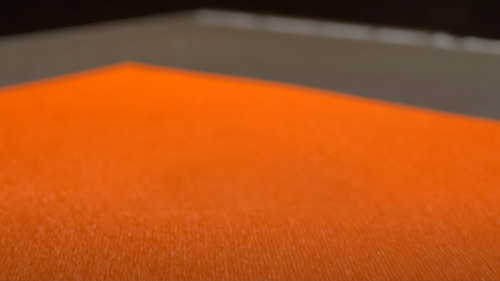 Automatic First Layer Calibration
The Nextruder is equipped with the Load Cell function, which enables a fully-automatic first layer calibration without ANY user intervention. No adjustments, no tuning. Before every print, the XL measures the distance between the nozzle and the sheet with pinpoint accuracy, so it delivers a perfect first layer every single time.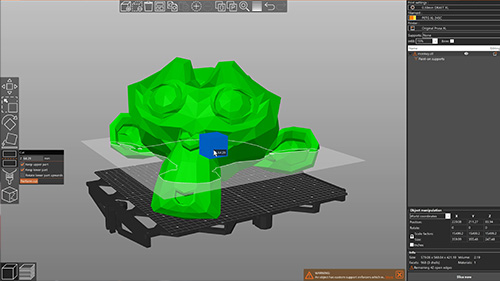 Slice with PrusaSlicer!
Our internally developed multiplatform slicer comes with in-house made and fully tested profiles for all of our 3D printers and a wide range of filaments. With built-in tools, such as advanced support generation, cutting, automated object distribution, ironing and many others, you will turn your 3D models into print files in no time!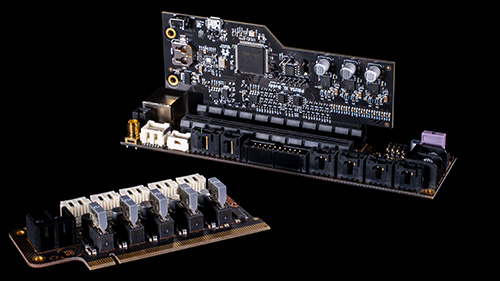 32bit electronics and smart features
The XL is powered by a new 32-bit motherboard with an expansion port, allowing an easy upgrade to up to five tool heads. Featuring popular enhancements, such as one-click-printing and G-code preview, the XL is easy to configure and operate.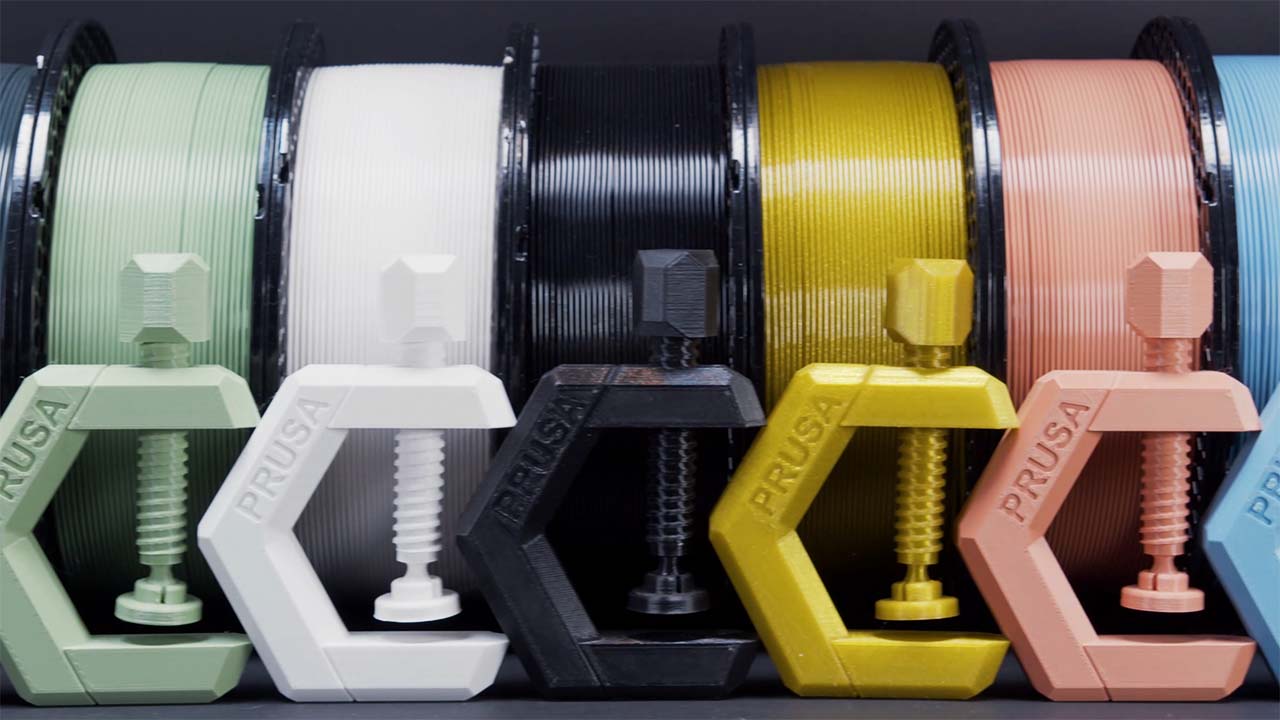 Wide range of supported materials
The XL is fully compatible with a wide range of various types of materials. No matter whether you want to print something for fun from PLA and flexible materials, or you need to produce durable prototypes from PETG, ASA, Polycarbonate and Polypropylene - the XL can handle them all with ease.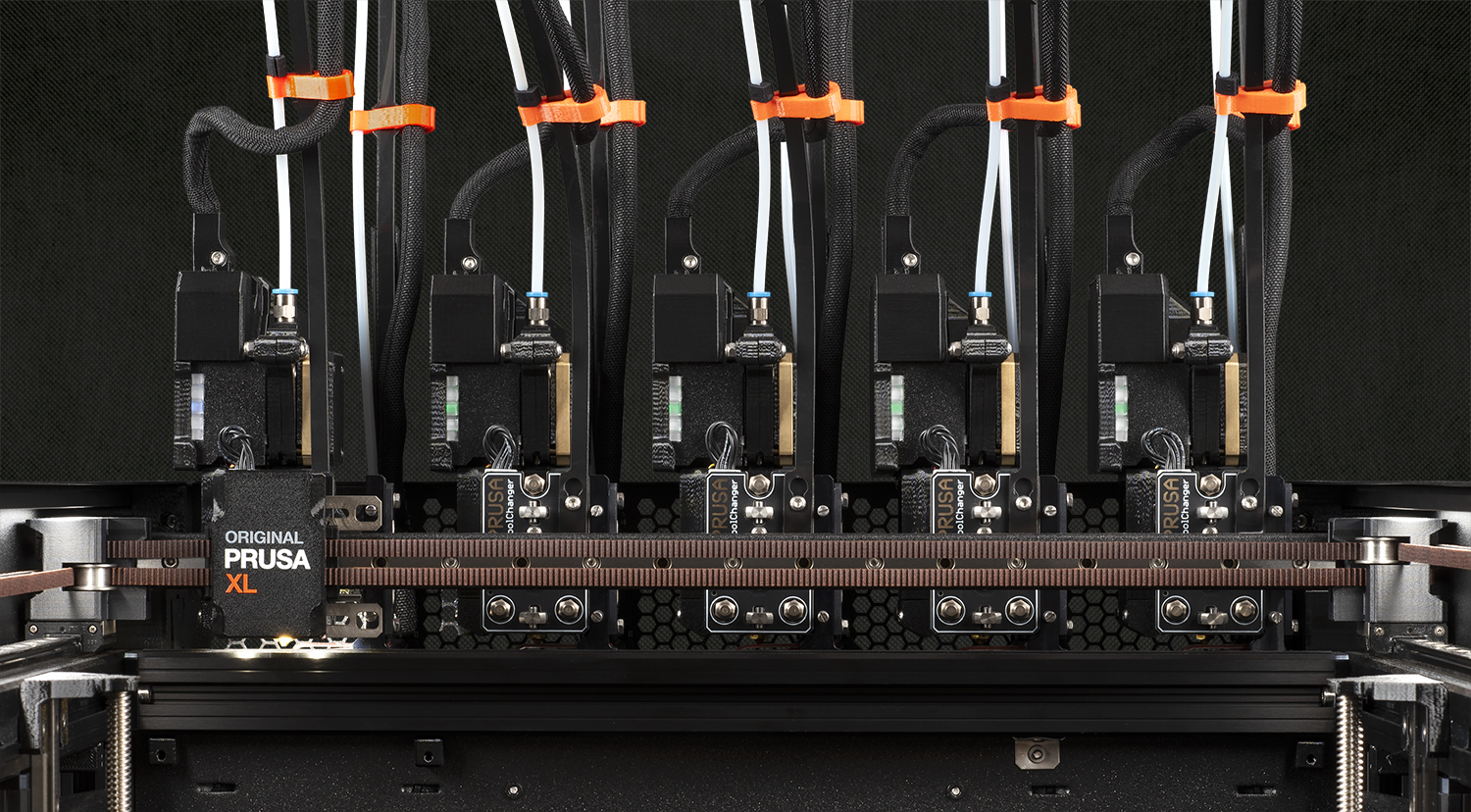 Toolchanger
The XL can be upgraded with up to 5 individual print heads, each driven by its own electronics board. The internally developed toolchanger uses a reliable wear-resistant system and fully automatic tool alignment calibration ensuring millions of trouble-free tool swaps. This makes printing with multiple colors and with soluble supports quick and easy.
Features
Printer design: Core XY
Build volume: 360×360×360 mm (14.17''×14.17''×14.17'')
Printer dimensions: 800×800×900* mm (31.49'' ×31.49''× 35.43'')* including side spoolholders and top enclosure cover (separate future add-on)
Filament diameter: 1.75mm, wide range of thermoplastics supported (including, but not limited to PLA, PETG, ASA, ABS…)
Extruder: Planetary 1:10 gearbox with no-slip drive gear, Load Cell sensor
Tool Changer with up to 5 tool heads (optional upgrade via built-in expansion port)
Bed: Segmented heatbed with 16 individually controlled segments
Print surface: Removable magnetic steel sheets with different surface finishes
Electronics: 32-bit custom-made board with an expansion slot, single-cable communication with tool heads, network features, one-click printing
Mesh Bed Levelling: Load Cell-based fully automatic first layer calibration with no Live Z adjustment
Power panic: Hardware-based, single G-Code line accuracy
Ethernet connection: built-in
*Dimensions might change *Draft shield is not included
All information provided on this webpage are based on the current development stage of the XL and are subject to change.
---
Online Assembly Manual, Power Cable (US), Handbook (EN) (change)
New orders will be processed during the first half of 2024.