Original Prusa i3 MK3S+ 10th Anniversary Edition kit
This is a special limited run of the Original Prusa i3 MK3S+ to celebrate the 10th anniversary of Prusa Research. Featuring a gold-painted frame, all-black plastic parts, a double-sided smooth print sheet with the anniversary theme, this 3D printer offers the same functionality as the regular Original Prusa i3 MK3S+ and uses the same parts. Each machine is personally signed by Josef Prusa and comes with a certificate of authenticity.
The printer comes with two smooth PEI sheets, one standard sheet and one 10 year anniversary sheet.
Alternatively, you can buy an assembled printer with complete warranty and a free online course.
Original Prusa i3 MK3S+ 10th Anniversary Edition 3D printer
Original Prusa i3 MK3S+ 10th Anniversary Edition
These special edition 3D printers are sold in several batches - only 500 assembly kits and 500 assembled 3D printers were made. We will make a limited number of units available every day at varying times to cover all time zones and give you more opportunities to secure your unit. This promotion runs as long as this product page is active. The limit is one 3D printer per customer; numbers (written on the frame) are picked randomly - it is not possible to reserve a specific number.

Our standard warranty applies to these special edition 3D printers as well. Spare parts specific for this edition are not held in stock - only standard parts will be sent in case a replacement is needed (e.g., a black frame will be sent as a replacement).
LEARN MORE IN THE ANNOUNCEMENT ARTICLE
The Original Prusa i3 MK3S+ is the latest version of our award-winning 3D printers. We have upgraded the MK3S with a brand new SuperPINDA probe for improved first layer calibration, added high-quality bearings and various useful design tweaks to make the printer easier to assemble and maintain. The MK3S+ includes all the proven features of the previous models, including the heatbed with removable PEI spring steel print sheets, automatic Mesh Bed Leveling, filament sensor, power loss recovery (power panic) and safety features. And it is still as silent as ever!
The functionality of the MK3S+ can be further enhanced by our unique Multi-Material Upgrade 2S for printing with up to 5 filaments simultaneously.
Main Features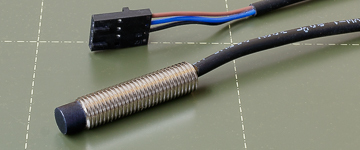 SuperPinda Probe
SuperPINDA probe features a hiqh-quality sensor for a fully-automatic Mesh Bed Leveling process. Before every print, the printer probes the bed in several places and creates a virtual heightmap of the print area. This process ensures that the first layer will always be spot on!