3D Printing and Modeling for Beginners (MINI+)
The main goal of this course is to introduce the Original Prusa MINI+ to absolute beginners. It is primarily intended for customers who purchased the assembled printer, however, the vast majority of the course content is equally suitable for owners of the kit variant. Actually, lessons on downloading 3D models, using PrusaSlicer, learning the basics of 3D modeling, and to some extent, even printer maintenance, could be relevant for users of pretty much any 3D printer out there. 😉
In a moment after the purchase, you will get a confirmation email with a link. No extra registration is needed - you are already logged in with your Prusa Account credentials. The whole content of each course is unlocked right from the beginning. Please note that you cannot mix virtual products and normal e-shop items in one order.
Virtual product
This course is available free of charge to customers who bought the assembled variant of the Original Prusa printer (in that case, the course becomes available once the printer is shipped).
The course follows this simple path:
get you to your first print as soon as possible,
show you where to get more 3D models and how to prepare them for printing, 
teach you how to keep your printer in top condition,
and finally, how to create simple 3D models of your own.
Approximate total time: 3.5 hours
Certificate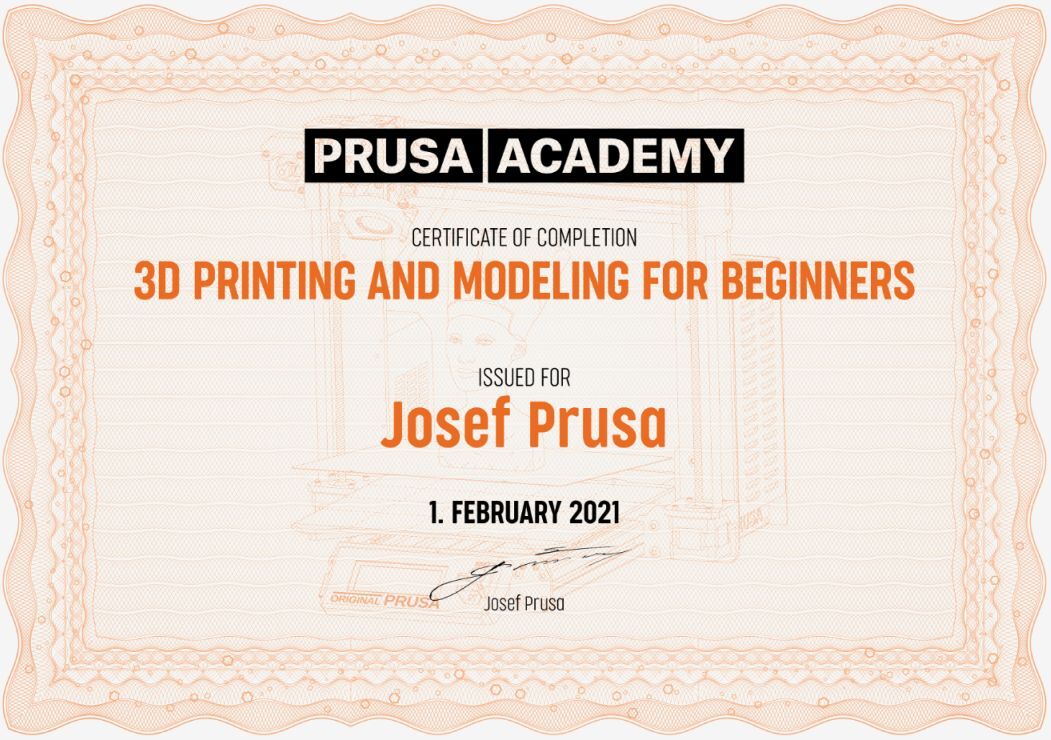 Each course contains quizzes to help you check your newly gained knowledge along the way. If you pass them all successfully, you will get a nice certificate with your name. Enjoy all the prestige, bragging rights, and new job opportunities that come with it! 🙂
Reviews
The Seller does not verify whether the published reviews come from consumers who have actually used or purchased the products or digital content or service. Reviews are provided by registered PRUSA ACCOUNT users.
van Zuijlen Jasper7 months ago
Great introduction to 3D printing in general and the Mini in particular. The quizzes add a great motivation to really graps the information and look back to get that 100% score. Well worth the money if it didn't come with your printer.
Greil Florian8 months ago
I wish that I knew earlier about the course, some things I learned the hard way. It is more than just a nice add-on to the printed brochure which obviously does not feature (small) videos. The quizzes help you to really memorize the important terms. Altogether, the course is better structured and presented than many online-academies I have seen so far. Great job, Jo and Team!
Garapich Marcin8 months ago
If you just started your journey with 3D printing this course will give you really nice head start. Nicely written and easy to follow.