Original Prusa MINI+ Semi-assembled 3D Printer
Introducing our new compact 3D printer with all the bells and whistles you would expect from the creators of the award-winning Original Prusa i3 MK2 and MK3S! The MINI+ is a big printer in a compact body. We did our best to squeeze as many features into the lowest possible price as possible. The MINI+ is great for beginners, companies looking to build a printing farm and 3D printing enthusiasts worldwide.
Smooth PEI print sheet included
By purchasing the semi-assembled MINI+ you gain free access to our online course: 3D Printing and Modeling for Beginners.
Original Prusa MINI+ - smart and compact 3D printing workhorse with all the bells and whistles you're accustomed to when you buy an Original Prusa 3D printer. MINI+ will surprise you. :-) It has a print volume of 18 cm (7") cubed, removable spring steel sheets, ethernet and optional Wi-Fi and it's based on our brand new custom-made 32-bit Buddy mainboard with silent 2209 Trinamic drivers.
Main Features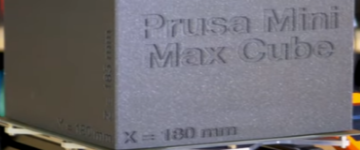 Build Volume
Featuring a 7"×7"×7" (18×18×18 cm) build volume, the MINI+ is a fully-equipped 3D printer. Featuring sensorless homing, automatic Mesh Bed Calibration, replaceable nozzles, network connectivity, USB printing and a full-color LCD screen, the MINI+ is a big printer in a small body.
Color LCD Screen
Configure your 3D printer with ease and see previews of sliced models before you start printing! Thanks to the 2.8'', 240×320 LCD screen with 65.000 colors, every option is just a few clicks away.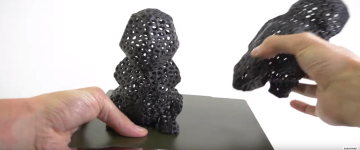 Flexible Print Sheets
Removing a print has never been easier! With the magnetic heatbed and removable spring steel sheets, you can remove a printed object merely by bending the steel sheet. The surface is easy to maintain and comes in two variants: smooth and textured.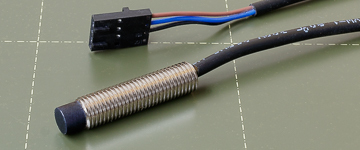 SuperPinda Probe
SuperPINDA probe features a hiqh-quality sensor for a fully-automatic Mesh Bed Leveling process. Before every print, the printer probes the bed in several places and creates a virtual heightmap of the print area. This process ensures that the first layer will always be spot on!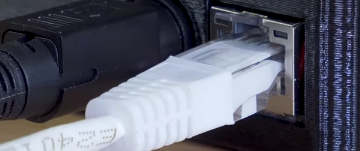 Network Connectivity
The MINI+ comes standard with an ethernet port and you will be able to instal the optional ESP Wi-Fi module upgrade which will enable sending files to the printer wirelessly, or download OTA firmware updates. Thanks to future updates you will be able to manage a whole print farm easily.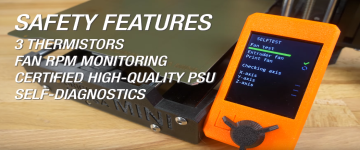 Safety Features
Every part we use is thoroughly tested in-house. This is why our 3D printers are highly reliable and safe to use. The MINI+ is equipped with three thermistors and comes with a high-quality power supply (Delta or Mean Well - depending on region) for safe and reliable information.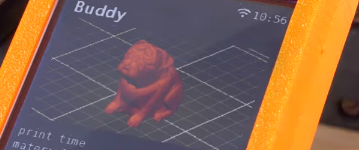 One-click Printing
Once you insert a USB drive with a sliced object, a new menu with an object preview window appears. Confirm the selection with a single click of the control wheel and watch the printer do the rest for you.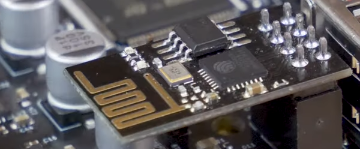 32bit Controller STM32
More power, more options. Our brand new custom-made 32-bit "Buddy" motherboard with Trinamic 2209 drivers brings more bang for your bucks. It's capable of nearly everything OctoPrint can do, including farm management software (future firmware update).
Technical Parameters
| | |
| --- | --- |
| Build Volume | 180 x 180 x 180 mm | 7 x 7 x 7 in |
| Layer height | 0.05 – 0.25 mm |
| Nozzle | 0.4 mm default, wide range of other diameters/nozzles supported |
| Filament diameter | 1.75 mm |
| Supported materials | Wide range of thermoplastics, including PLA, PETG, ASA, ABS, PC (Polycarbonate), CPE, PVA/BVOH, PVB, HIPS, PP (Polypropylene), Flex, nGen, Nylon, Woodfill and other filled materials. |
| Max travel speed | 200+ mm/s |
| Max nozzle temperature | 280 °C / 536 °F |
| Max heatbed temperature | 100 °C / 212 °F |
| Extruder | Bowden system with 3:1 gearing |
| Print surface | Removable magnetic steel sheets(*) with different surface finishes, heatbed with cold corners compensation |
| Printer dimensions (without spool holder & external PSU) | 4.5 kg 380×330×380 mm; 15×13×15 in (X×Y×Z) |
| Shipping box dimensions (semi-assembled) | 11 kg (volumetric weight); 485×265×405 mm; 19×10×16 in (X×Y×Z) |
| Shipping box dimensions (kit) |  6 kg (volumetric weight); 430×230×242 mm; 17×9×9 1/2 in (X×Y×Z) |
* Consumable parts, such as PEI sheets (smooth, textured, etc.) are not covered by warranty as the coatings are designed to diminish over time unless failure has occurred due to a defect in materials or workmanship. Cosmetic damage, including but not limited to scratches, dents, cracks, or other cosmetic damage is also not covered by the warranty. Only defective sheets on arrival are covered by warranty.
Full Features List (January 2023 Edition)
Silent Trinamic 2209 stepper drivers
Ethernet RJ45 port and optional ESP Wi-Fi module upgrade
3 thermistors, fan RPM sensors
Bowden system with 3:1 gearing
SuperPINDA probe - no temperature drift (more info)
Fast preheat: PLA 1 min / ASA 3 min
Sensorless homing for X and Y axes
2.8″ graphic 65k color screen with G-Code preview
Prusament PLA sample weight: ~2x25 g
Awards & Press Reviews
Thanks to all of these (and many other) features, the MK3S became the "Best 3D Printer" according to ALL3DP. The MK3S is also the highest-rated 3D printer, and the "Editor's Choice", in the prestigious MAKE:MAGAZINE's Digital Fabrication Guide 2019. The MK3S is also featured in TechRadar's Best 3D printers of 2021 as The best all-around 3D printer. NY Times wrote that "...of the 11 printers we've tested over the past five years, the Prusa i3 MK3S printer has produced the largest and best-looking prints." According to ZDNet, the MK3S is "The best pro-sumer 3D printer under 1000 USD."
Features & Parameters
Fantastic Price/Performance Ratio
We designed the MINI+ to be a true 3D printing workhorse. Thanks to its compact dimensions, you can build an entire print farm to produce mechanical parts at a rapid pace. And the affordable price makes the MINI+ a great first 3D printer for everyone.
Great 24/7 Support
We are working hard to help you start 3D printing as soon as possible. We are providing full 24/7 customer support with live chat and e-mail in seven languages. You can also use our community forum and knowledge base.
Fun to Assemble
Assembling the kit is an excellent first step to the world of 3D printing. You will understand the principles of printer construction and get a huge advantage when you need to solve possible problems and replacements later.
Don't worry, we want to leave anything to chance, so our assembly instructions are pictured to the smallest detail.
Ready to Print Settings
Original Prusa MINI+ is fully supported in our own open-source slicing software, PrusaSlicer. It is a feature-rich, frequently updated tool that contains everything you need to export perfect print files. We provide fine-tuned profiles for all supported materials.
Open-source Design and Great Community
All parts of our printer are open-source. The community around our printers is huge and the feedback is overwhelmingly positive - just check the Facebook groups or YouTube videos! There's so much to do with your 3D printer - buying it is just the beginning!
Quality Guaranteed by Josef Prusa & Prusa Research
Prusa Research is a 3D printing manufacturer located in Prague, Czech Republic. The company was founded by Josef Prusa, one of the core members of the open-source RepRap community, in 2012. Prusa Research develops and produces 3D printers exclusively in its Prague's HQ. Since 2012, more than 150.000 Original Prusa 3D printers has been sold worldwide, receiving praise from both the media and 3D printing enthusiasts. The company also develops its own open-source slicing software PrusaSlicer and produces high-quality in-house-made filament called Prusament. Prusa Research's products are covered by international warranty. The company offers 60-day hasslefree returns (conditions apply)
 
Original Prusa i3 MK3S+
Original Prusa MINI+

Build volume

250 x 210 x 210 mm | 9.84 x 8.3 x 8.3 in
180 x 180 x 180 mm | 7 x 7 x 7 in

Layer height

0.05 – 0.35 mm
0.05 – 0.25 mm 

with 0.4 mm nozzle

Max travel speed

200+ mm/s
200+ mm/s

Max hotend/heatbed temp.

300 °C / 120 °C (572 °F / 248 °F)

280 °C / 100 °C (536 °F / 212 °F)

Mainboard

Einsy RAMBo 8-bit board with Trinamic 2130 drivers co-developed with Ultimachine

Custom 32-bit Buddy electronics with STM32 and latest Trinamic 2209 silent stepper drivers

MMU2S support

Yes

No

Extruder

Direct drive

Bowden system with 3:1 gearing

LCD screen

Monochromatic LCD

2.8″ graphic 65k color screen

Print surface

magnetic heatbed with removable PEI spring steel sheets

magnetic heatbed with removable PEI spring steel sheets

Filament diameter:

1.75mm

1.75mm

Number of materials (simultaneously)

1
1

Nozzle diameter

0.4mm (default) / other nozzle diameters supported

0.4mm (default) / other nozzle diameters supported

Supported materials

Any thermoplastic including Nylon and Polycarbonate

Most thermoplastics except Carbon filled

Filament sensor

Yes (IR)

Optional upgrade

Power panic

Hardware-based, single G-code line accuracy

Future software upgrade, single layer accuracy

Ethernet connection

Via Raspberry Pi

Yes

Wi-Fi connection

Via Raspberry Pi

Advanced sensors

3 thermistors + SuperPINDA, fan RPM sensors

3 thermistors + SuperPINDA, fan RPM sensors

Farm mode

No

Yes (upcoming feature)

Calibration

Automatic, Mesh Bed Leveling

Automatic, Mesh Bed Leveling

Print medium

SD card

USB drive / LAN

Firmware update interface

USB port

USB drive / LAN

Power supply

240W, custom made by Delta with Power Panic HW

160W, external adapter by Mean Well or Delta depending on the region

Kit price

799 USD / 849 EUR (VAT incl.)

429 USD / 459 EUR (VAT incl.)

Assembled printer price

1099 USD / 1159 EUR (VAT incl.)

459 USD / 489 EUR (VAT incl.)
Reviews
The Seller does not verify whether the published reviews come from consumers who have actually used or purchased the products or digital content or service. Reviews are provided by registered PRUSA ACCOUNT users.
Latham Daniel24 days ago
easy and worked right out of the box love it so far
D Jeff2 months ago
It just worked. Simple as that. I spent some time at the local library on the free Ultimakers running Cura & had a basic understanding, but little more. The Mini came, I followed the directions, loaded a benchy, used preset settings (0.2 quality) in the Slicer and it came out amazing with literally zero problems. Incredible.
S. A.2 months ago
We have in our laboratory 2 mini and 2 MK, we have just bought two more mini.Each machine prints more than 5 days out of 7 continuously.We print models for dentists.For the price, the quality and incredible, we are more satisfied than the Ultimakers we had in the past.Your machines are workhorses!Bravo !