Threaded inserts
Heat-set threaded inserts created from brass provide a durable wear-resistant thread to a 3D printed part.
Threaded inserts by CNC Kitchen, community creator and youtuber.
Threaded inserts not only look great in 3D printed parts, but they also have a practical use. Everyone has had a device that was assembled with screws. After disassembling and reassembling it a few times, you realize that if the screws dug directly into the plastic, they won't hold anymore. Each time you screw the parts together, the material gets plastically deformed at the threads, which eventually leaves you with nothing but a ragged hole where nothing can grab. This is where thread inserts come into play. By melting them into your parts, they are positively bonded to the plastic and no longer move. The screws are now turned into durable and also low-friction brass and thus will last forever.
PROTECT OUR ENVIRONMENT, 100% LEAD and CADMIUM FREE Brass alloy
ORIGINAL CNC Kitchen threaded inserts for 3D printed parts (PLA, PETG, ABS, etc.),
HIGHEST QUALITY, make your printed parts to professional products
PRECISE CNC machined inserts made from high-quality Lead and Cadmium free alloy
EASY INSTALLATION with a soldering iron. Installation temperature is the printing temperature +10 °C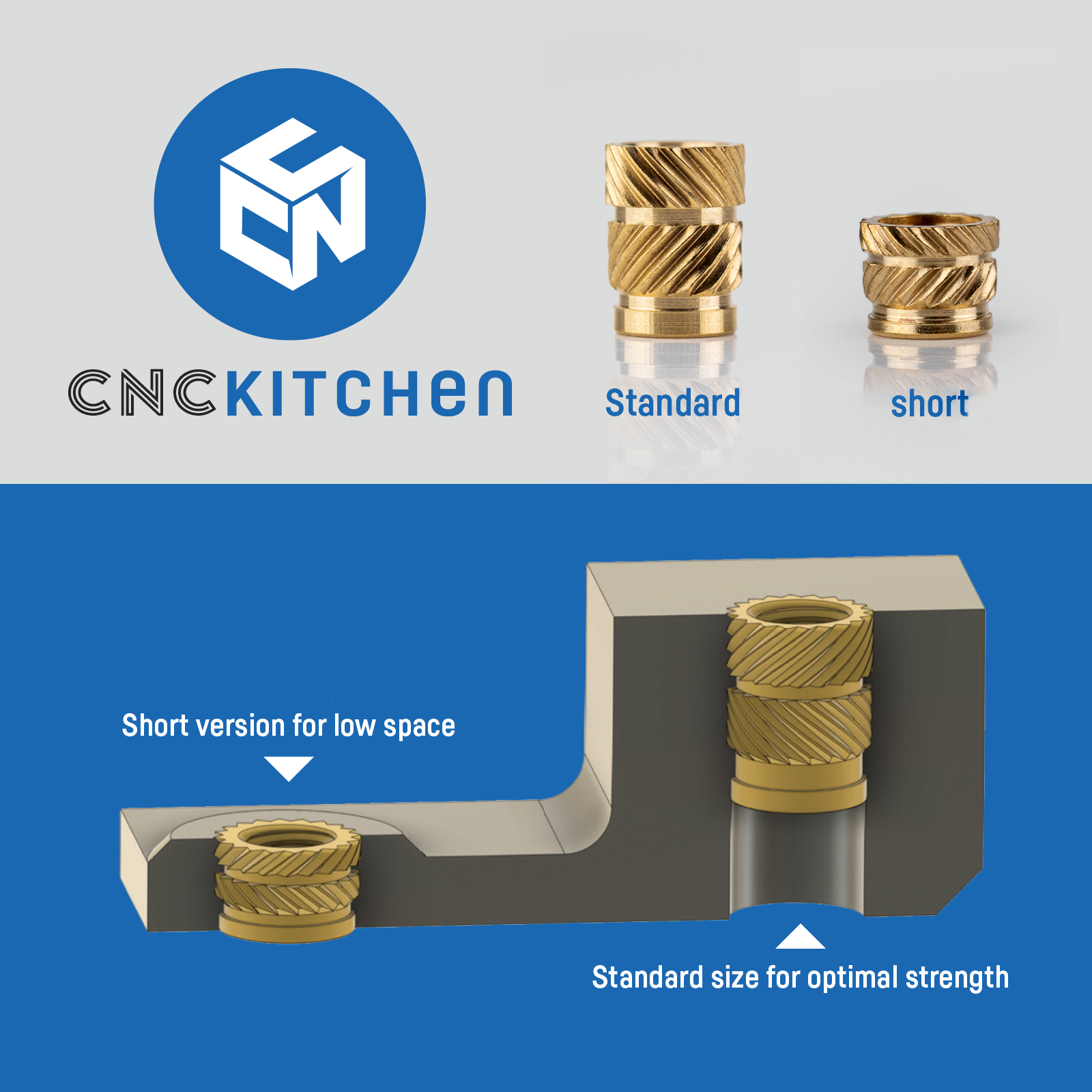 Installation
You can install heat-set inserts by pushing them into the plastic with a soldering iron. The printed plastic will melt and reflow around the knurled external surface. This creates a secure bond between the insert and the plastic and ensures a strong pull-out resistance and torque-out rating. When preheating your soldering iron, use the print temperature for the specific filament that was used to print the plastic part increased by 10°C - 20°C.
Hole Dimensions
Use the drawing below to reference the ideal dimensions of holes for the insert. The hole should be just large enough so that the insert can be easily pushed in and that no burr remains under the insert after melting.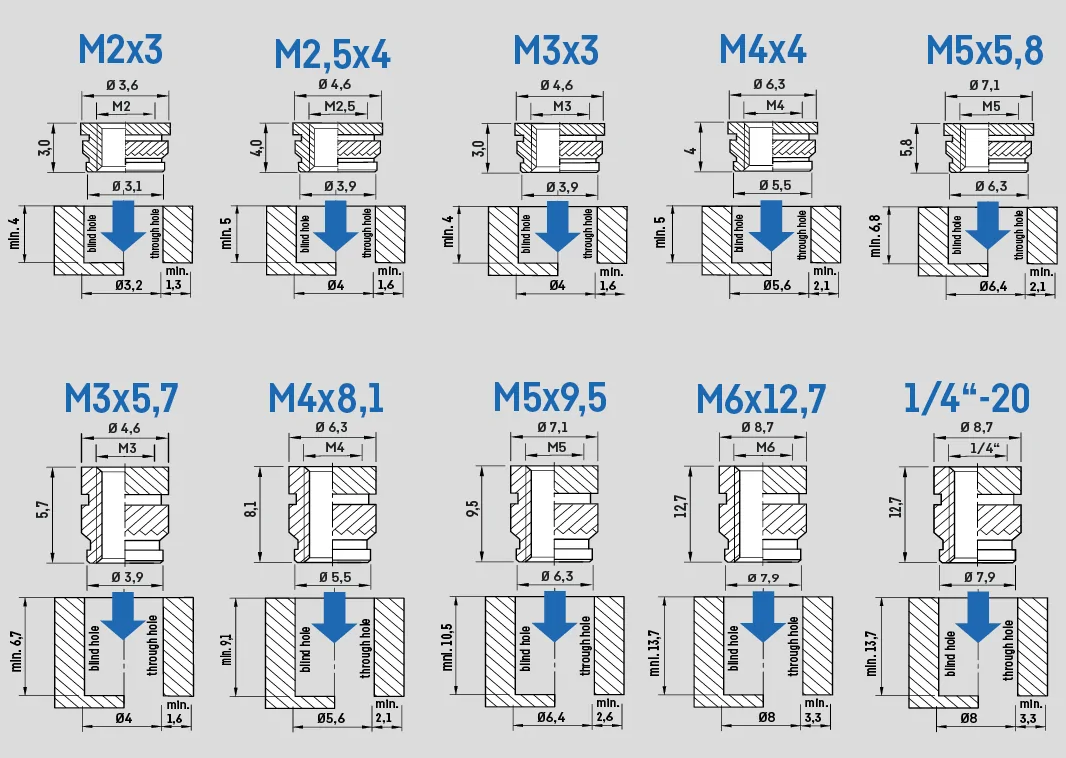 Specific package contents:
Set standard: M3x5,7 mm (100x); M4x8,1 mm (50x); M5x9,5 mm (50x) pcs
Set short: M3x3 mm (100x); M4x4 mm (50x); M5x5,8 mm (50x) pcs
M2 short (100x) pcs
M2,5 standard (100x) pcs
M3 standard (100x) pcs
M3 short (100x) pcs
M4 standard (50x) pcs
M4 short (50x) pcs
M5 standard (50x) pcs
M5 short (50x) pcs
M6 standard (20x) pcs
1/4" (20x) pcs
M8 standard (20x) pcs
Reviews
The Seller does not verify whether the published reviews come from consumers who have actually used or purchased the products or digital content or service. Reviews are provided by registered PRUSA ACCOUNT users.
In stock
Preparation time: 3-5 business days.
This product is temporarily unavailable